The Roane County Chamber has operated a "Shop Roane First" program for many years, spreading the word about why it is important to shop locally when possible - and especially at a Chamber member business, as those are the businesses who are investing in their community. Click here to search for Roane County Chamber members by category or by name.
Shopping Spree Contest




One of the more popular facets of the Shop Where Your Heart Is campaign is the annual Shopping Spree Contest. Local Chamber retailers become a contest entry point by paying $100 that goes toward the cash prizes and the promotions for the contest. Customers then enter the contest to win $1,000 in cash prizes at any of the participating Chamber retailers during the contest dates (beginning Super Saturday in November through the middle of December). The cash prize is to be spent at any Chamber member business. The lucky winners are drawn during the annual Roane Alliance Christmas Open House (held the middle of December) and notified the same day.

Those participating in the 2018 Shop Where Your Heart Is Shopping Spree include:
A&E Mercantile, Amazing Bakes Cookies & Cakes, Browder's Ace Hardware, Bunch Marine, Burger Station 120, Chase Drugs & Clinical Services, Citizen's First Bank, Earl Duff Subaru, Emory Lane Family Boutique, Enrichment Federal Credit Union - Kingston & Midtown, Farm Bureau Insurance - Kingston, Foust Family Fitness, G&G Gun Shop, Griffin Insurance, Harvey's Furniture & Appliance, HealthMarkets Insurance - Matt Libby, Live & Let Live Drug Store, Lowe's Home Improvement, MeMe's Restaurant, Old Capital Public House, Pattersons Home Appliance Center, Recovered Relics, Roane Street Grill, Scandlyn Lumber Company, Shoney's - Harriman, SimplyBank. - Harriman & Rockwood, State Farm Insurance - Josh Igou, Tennessee's Finest Awards & Frameworks, United Community Bank.




Interested in becoming a Chamber member? Contact The Roane County Chamber of Commerce at 865-376-5572. Remember to check in while shopping local using #shoproane via instagram, facebook and twitter!


Contest Rules:
1. Up to $1,000 in cash prizes will be awarded
2. Contest runs from the day after Thanksgiving to the middle of December (exact dates will be announced)
3. Contest entry forms will be available at participating businesses (exact locations are provided by the Chamber)
4. Drawing is held during a public event at The Roane Alliance following the end of the contest.
5. Winner(s) are contacted by telephone immediately
6. If after 24 hours all efforts have failed in contacting winner(s), another name will be drawn
7. Winner(s) may be accompanied by a Chamber Board Member who will pay for selected goods at any participating businesses.
8. Chamber Board Members are not eligible to participate in the drawing.
9. Roane Alliance staff members and immediate family are not eligible to participate in drawing.
10. Employees of a participating Chamber business are not eligible to enter drawing at their place of employment but may enter at other participating businesses.

Super Saturday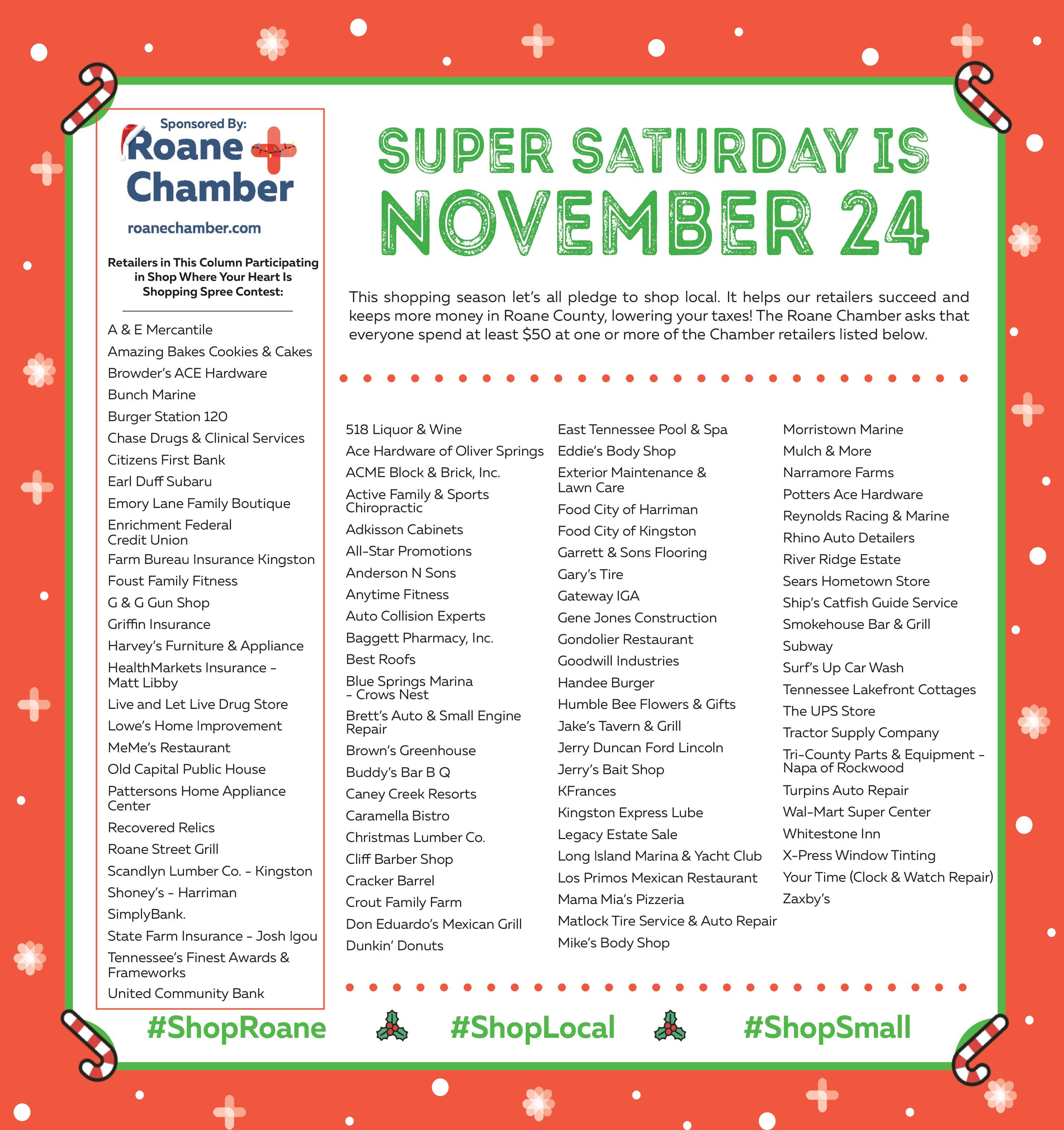 Marketing & Promotions

Participating businesses are promoted on the Chamber's Facebook pagein featured posts during the dates of the contest, as well as on the website and in the Roane County News.